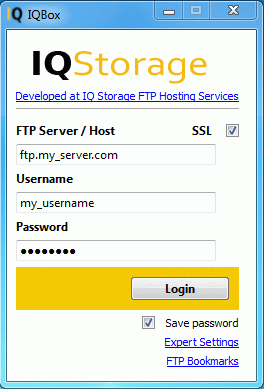 Sync with FTP for Free
IQBox lets you keep files in sync with any FTP or FTP-SSL service.
Currently available for Windows.
Mac and Linux support will be released by Mar. 2014.
Download IQBox Beta (Windows)
Want to customize IQBox for your company's needs, or add sync to your product line? Contact IQ Storage.
Easy to use: No complex configurations. Just enter your user, password and server address.
Real-time sync: Detects your file changes in real-time and uploads them. (FTP server changes require scanning for this version.)
Lightweight app: Loads quickly and takes up few system resources.
Designed to work with FileZilla Server (free) and works with many other FTP servers.
Supports security: Unless SSL is disabled, IQBox connects using secure SSL, with an encrypted data communication channel.
Open-source.